Furniture wholesale purchase order will bring benefits to consumers at an affordable price.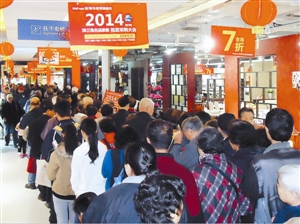 Shenzhen Evening News, the well-received home "Autumn Fair" - the 2014 Autumn International Furniture Wholesale Purchasing and Ordering Fair will kick off on September 6th in Shenzhen Futian Xiangjiang Home Brand Factory Wholesale City. It is reported that this 2014 home "Autumn Fair" lasts for 30 days (September 6 ~ October 7), more than 23 cities nationwide joint exhibition, broke through 2,450 brand furniture factory exhibitors, exhibited nearly 1.1 million new products, jointly released 2014 -2015 international home trends and brand new products released.
Enjoy factory wholesale price
The exhibition held more than 56 special ordering events throughout the country. The exhibits include small pieces of furniture, living room furniture, European and American furniture, solid wood furniture, mahogany furniture, panel wood furniture, children's furniture, home accessories, office furniture, etc., and also divided into solid wood furniture, panel furniture, software furniture, home The exhibition area such as the Jewelry Pavilion is expected to exhibit millions of sets of new autumn furniture, which will attract buyers, distributors and consumers from all over the country to purchase and order.
The price of the 2014 International Furniture Wholesale Purchasing Order Fair is generally lower than the market price by 50%~70%. Consumers purchase the factory wholesale price, reduce the intermediate circulation link, eliminate the price bubble, and benefit the consumers.
Home exhibition price
Xiangjiang Home Brand Factory Wholesale City has always focused on exhibitors linkage, leading the trend of global fashion home, successfully held three "home autumn fairs", has become the designated release platform for new home factories.
The home furnishing exhibition has developed into an integrated platform for exhibition and sales with comprehensive performance, which has narrowed the distance between the brand and the public, and has been welcomed by the market for profit and quality service.
As an industry trend indicator, Xiangjiang Commercial Group's global home trading distribution platform - Shenzhen Xiangjiang Home Brand Factory Wholesale City has always been a platform for home business to display, exchange and trade. The public can call 83519149 to register, and each person will receive a subsidy of 5,000 yuan.
Baking Tools
Baking tool-
Our baking tools including a variety of Stainless Steel And Silicone Whisk\Stainless Steel And Silicone Spatula\Measuring Tools including measuring spoons and cups\Flour Sifter\Silicone Chocolate Mold and other what you want.The silicone whisk had ordered many times in this years.It's available for client's design.
Cake Tester,Baking Utensils,Baking Thermometer,Bread Making Tools
YANGJIANG SHENGHAI INDUSTRIAL&TRADING CO., LTD , https://www.shenghaiyjs.com