Kao (China) will launch a new product called Jieba Instant Clear in the Chinese market in September 2010. In order to meet the needs of consumers, in the process of designing and developing the liquid detergent bottle, a large number of ordinary Chinese families were visited to investigate and research the awareness and situation of daily use of detergent bottles by consumers. Finally designed a unique liquid detergent bottle cap.
The bottle cap mainly has the following four characteristics:
1、Convenient bottle cap with scale (can be used for measuring device)
2, the use of transparent caps with a scale, accurately grasp the amount, eliminate waste.
3, the shape of the bottle mouth with a new design, easy to inject liquid detergent into the cap.
4, the tip of the cap to add a sharp mouth-like liquid outlet, to facilitate the dumping of the part of the stain.
The pad printing machine is a simple structure . It is mainly composed of the following parts:
1. Working Table
The workbench is used to set up the fixture and the substrate, and the work bench of the monochrome pad printing machine is usually the three-part mechanism that can make three dimensional adjustment. The two-color shuttle pad printer table is based on the spindle, and can be moved back and forth in two printing positions to achieve the color printing of two colors. In addition to the shuttling table, there is also a rotary table, which can be continuously printed with high productivity.
2. Printing system
The printing device is the core of the pad printing machine, which is composed of the rubber head translation mechanism and the head falling body. The falling mechanism mainly completes the basic movement of the inking and lifting and printing and lifting. The glue head translation mechanism is used to complete the reciprocating transformation of the position of the pad printing plate and the position of the substrate. The modern pad printing machine mainly has pneumatic control printing device basic movement.
3. Ink supply system
The ink - printing device for the printing machine is also very simple. There are two ways for ink, open inkwell system, closed in system. Ink cup ink printing ink and thinner is encapsulated in ink cup, after adjusted the upside down on the pad printing steel sheet, using its own magnetic suction to the thin steel plate, connected in ink cup to push the cylinder piston shaft can move to and fro, achieve ink and scraping.
4. Control system

The control system is used to sequence the above mechanical movements in order to automate the printing process. Now the printing machine basically realizes microcomputer control, and the performance is more stable and reliable.
Four Colors Pad Printer can print 4 colors one time.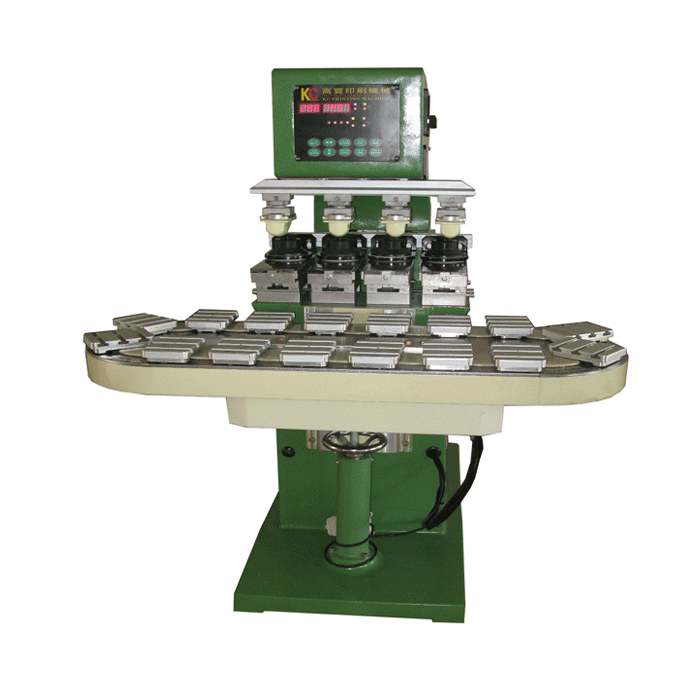 Four Colors Pad Printer
Four Colors Pad Printer,High Speed Four Colors Pad Printer,High Stability Four Colors Pad Printer,Four Colors Bottle-Cap Pad Printer
KC Printing Machine (Group) Limited , http://www.kcautopm.com